"It is my God who arms me with strength,
and keeps my path secure."
We are repairers of
handguns for citizens & law enforcement
We listen to your needs
We meet your expectations
Impeccable work by our Machinist
We have a full machine shop
We are repairers of
handguns for citizens & law enforcement
We listen to your needs
We meet your expectations
Impeccable work by our Machinist
We have a full machine shop
We listen to your needs
We meet your expectations
Impeccable work by our Machinist
We have a full machine shop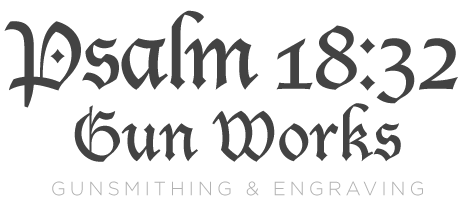 At Psalm 18:32 Gun Works, we are passionate about making for you the most accurate rifle you ever shot and are most proud to own, whether you use it for hunting or target shooting. We also feel it is imperative that the handgun you carry is dependable and faithful to purpose. It is this passion that drives us to give you the confidence to make all your shots count.
Who we are – What we do!
We have a passion for long range precision, hunting, and benchrest rifles, tactical rifles and customizing.
The machinist work is impeccable; manufacturing on demand.
The bluing is flawless, steel or stainless.
Actions bedded.
We have two test ranges up to 1000 yards.
Second Amendment Patriots and believers;
we are "armed and secure."
Gunsmith – Repair / Refinish Handguns and Rifles
Psalm 18:32 Gun Works offers it's local services to the East Texas PineyWoods,
and customers across the United States are cheerfully serviced by mail.

CONTACT US TO GET A CUSTOM QUOTE